Enemalta completes upgrade of Mellieħa Distribution Centre
06.02.2017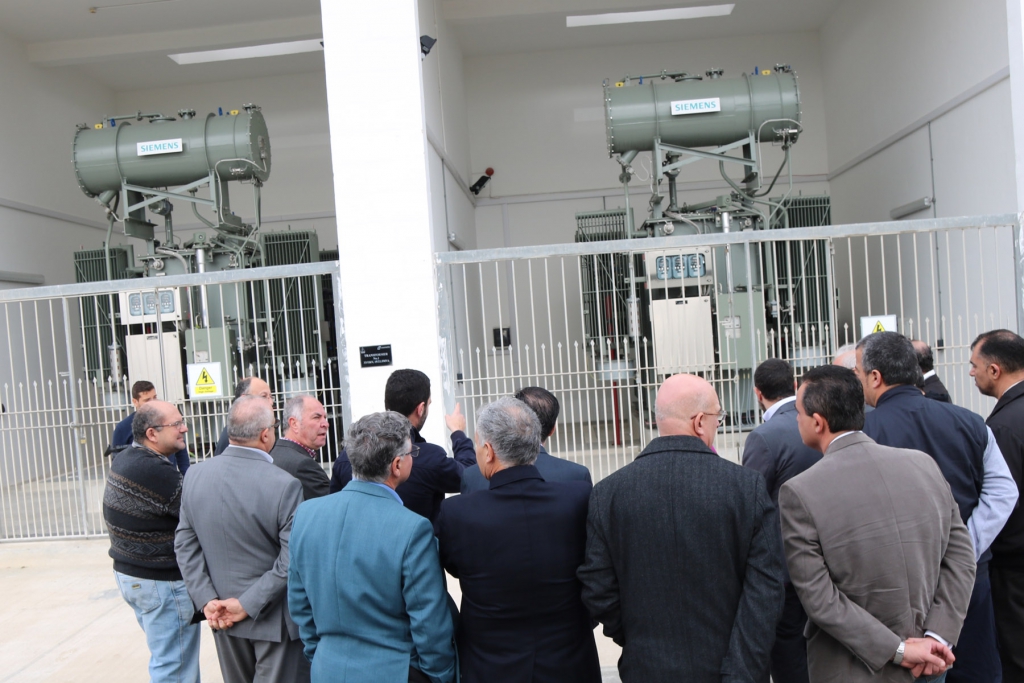 Enemalta plc completed a major upgrade of the Mellieħa Distribution Centre to double its capacity whilst consolidating security of supply to customers in several localities in the northern part of the country.
The 33 kV Mellieħa Distribution Centre is one of the main nodes of the national electricity grid. It receives electricity from the 132 kV Mosta Distribution Centre and distributes it to customers all the way from parts of Rabat and Mġarr to St Paul's Bay, Manikata and Mellieħa. It is also an important link to the network supplying electricity on the island of Gozo.
Inġ. Fredrick Azzopardi, Enemalta plc Executive Chairman, the Company's management and the project team gave details of this major network upgrade to a delegation of the Mellieħa Local Council, led by the locality's mayor John Buttigieg, during a recent visit to the distribution centre.
The €1.4 million investment started towards the end of 2015 with structural alterations to the distribution centre's building to accommodate the new equipment. The distribution centre's 1971 10/15 MVA transformers were replaced with two new 15/22.5 MVA power transformers. This increase in capacity was necessary to meet the rapid increase in residential and commercial electricity demand at Mellieħa and other nearby areas.
Through this investment, Enemalta is now adequately equipped to ensure security of supply and continue providing electricity services to its customers in the area even if one of the two transformers is unavailable due to maintenance, natural faults or other difficulties.
This project also includes the replacement of the 1971 11 kV oil-insulated switchboard with a 17 panel gas-insulated switchgear manufactured to Enemalta's specifications by Siemens in Italy. Through the increased number of panels, Enemalta improved its control over the area's 11 kV network. This development reduces the risk and duration of service interruptions to customers by spreading the area's electricity load over a wider network. It enables the Company to provide a quicker response to service interruptions caused by accidental damage, natural faults or other network difficulties.
The distribution centre's protection and control systems were also upgraded to make it easier for the Company's network engineers to monitor and operate this distribution centre remotely, 24 hours a day, from the country's Network Control Room at Marsa.
Enemalta plc architects, engineers and technicians collaborated with the Company's contractors in this delicate project, which involved construction works and replacement of critical electricity network infrastructure without switching off or damaging existing equipment in the same building. Every stage of the works had to be carefully planned to avoid disrupting services to customers supplied by the existing equipment. Planning and management, equipment specifications, high voltage cable jointing works and installation, testing and commissioning of the new systems were carried out by the Company's employees.
Ing. Fredrick Azzopardi explained that this upgrade forms part of the Company's €80 million Network Reinforcement Project launched in 2014. "We are carrying out a major overhaul of the national electricity grid. As we can see in this distribution centre, we are replacing equipment that dates back decades. It is impossible to upgrade the entire network at one go. In fact, this unprecedented investment is only the beginning of Enemalta's commitment to an ongoing network consolidation and expansion programme. We are dedicating as many resources as we can to continue giving our customers the quality of service they expect from us."
Mellieħa mayor John Buttigieg thanked the team of workers involved in this project. "Our locality is experiencing rapid growth in terms of residential developments and business investments. Within a few years, our population has gone up from about 4,000 to over 11,000 residents. In summer, with tourists and summer residents this number goes up to almost 22,000. Right now, two of the locality's hotels are undergoing major redevelopment to increase their bed capacity. This project by Enemalta is making sure that our utilities continue to meet the increasing demand of our residents and businesses, year after year."